End of Year Newsletter 2018
End of Year Newsletter 2018
End of Year Newsletter 2018
13.03.2019
With Christmas music in full swing we're reflecting the year that's been and we're looking forward to our holiday and a positive and productive 2019.
A big thank you to all our clients we've enjoyed working with you this year and we wish you a Merry Christmas and a Happy New Year.
Please note that we will be closed for the Christmas break from the 21st of December and the office will reopen on Monday January the 7th.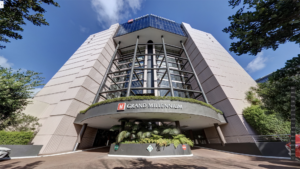 Millennium Hotels
Millennium Hotels and Resorts was founded in 1989. Millennium Hotels first entered the New Zealand market in 1993 with its well known brands of Millennium, Kingsgate and Copthorne Hotels. The Hotel Group had been on our radar for a while so we are pleased to announce our strategic partnership to create Google Virtual Tours for the Hotel Chain.
The Millennium Hotels and Resorts relationship with P3D was formed over the past year. Following discussions P3D was engaged to begin by creating virtual tours for four of the Millennium Hotels. These will be rolled out over the remaining months of 2018 with a particular focus on the brand new M:Social and Grand Millennium has the two flagship hotels in central Auckland.
These virtual tours are strictly Google Virtual Tours to be hosted on the Google Maps Platform as well as embedded in the Millennium Hotels and Resorts website. The tours will focus on showcasing each of the hotels rooms, restaurants and bars, conference spaces and guest amenities to provide a full preview as to what each guest might experience upon arrival.
We are privileged to be working with such a recognisable hotel chain and are excited about packing the camera and travelling to the next location to shoot in the near future.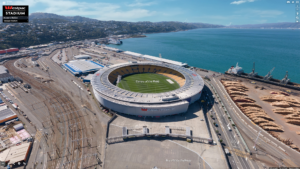 Westpac Stadium
Westpac Stadium is New Zealand's premiere multi purpose outdoor sports and events facility. This venue was one P3D had our eye on for a little while now so it is a great thrill to be able to announce and preview the tour for Westpac Stadium in Wellington.
The process began prior to visiting the National Digital Forum (NDF) forum in Wellington last November. P3D's Marcia Jessen approached the Stadiums marketing team with a view to visiting our display stand at NDF as a straightforward way of showcasing what we are capable.
Westpac's team were excited by the potential to create a 360 Custom Tour of the Stadium, it's entrances from an accessibility point of view and conference spaces on offer to corporates.
The creation of the tour began back in March this year – The first piece of photography was taken with an aerial drone over the stadium – this was taken with a view to showcase the stadium access points. These range from the Wellington Train Stadium, Thorndon Spiral, The Fran Wilde Walkway as well as the carpark these were a focus to ensure the Stadium patrons know the different ways of transport to the stadium. Another drone image taken at 200ft showcases the Circular Westpac Stadium in all its glory from a bird's eye view.
Another focus for showcasing the stadium via 360 Virtual imagery is to help grow its membership club. This adjective is captured from the members and corporate entrances as well as the facilities on offer to them.
''The 3D Property team were a treat to deal with. Marcia was always there to answer any questions along the way. They were so patient and worked around any restrictions that were put in front of them. We are delighted with the end product!''
Amy Lynch
Digital & Fan Engagement Executive
P3D are proud to have completed another stunning custom virtual tour for a landmark New Zealand Stadium and event venue. It's a great addition to our portfolio and one that we think will benefit our clients both for the future by locals and international stadium attendees as they can view prior to heading to future events at the Westpac Stadium.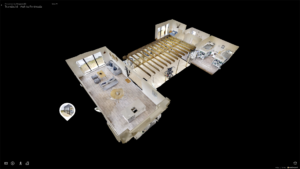 Transbuild
A P3D client feature with a record hit rate!
P3D were approached by the team from Transbuild, a NZ owned and operated company based in Papakura who creates consciously designed transportable buildings for ease of movement yet deliver maximum footprint. These quality built commercial and residential buildings are built in a factory with standardised materials and processes ensuring the construction time frame is condensed, plus site works can occur simultaneously.
Transbuild was wanting to showcase two of their residential options via our RealSCAN technology ahead of Fieldays 2018. Our photographer and account manager Marcia Jessen visited and captured the RealSCAN imagery at their Papakura manufacturing site and was able to create two scans which were used on social media to let people know Transbuild were showcasing their designs at Fieldays. Visibility was two-fold letting visitors know what they could explore at the event/or take another look once home after the event, but also for those that couldn't attend this year experience the spaces from the comfort of their own home.
In the lead up to Fieldays, Transbuild pushed these two show homes on Facebook and experienced (and continue to experience) an extraordinary number of individual views of these spaces. It is the highest hit rate P3D has seen on our RealSCAN offering with over 20,500 views in just under two months of the product being live.
We look forward to seeing these numbers grow in the coming months and continuing to build our relationship with Transbuild with future spaces being captured by our RealSCAN solution.
Look forward to hearing from you all in the new year!