This is a 360° image, try moving it.
This is a 360° image, try moving it.
RealSCAN
Like the pieces of a puzzle we can join them all together.
RealSCAN
RealSCAN, our hi-res 3D visualisations are breaking boundaries in digital marketing,  giving an unparalleled insight into a property before you've stepped foot inside. RealSCAN brings the space to life in three intelligent ways:
 – A 3D model or dollhouse view showing the entire property at once
 – A stunning virtual walk-through tour
 –

A millimeter perfect virtual floor plan
Our photographers carefully scan each room,  building a detailed 3D model of the environment.  We'll capture it in stunning detail to deliver an immersive 3D tour for your website, increasing online interaction and reach.
3D Model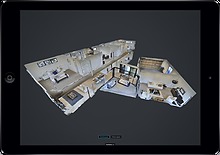 Matterport Doll House RealSCAN Property3D
Use Dollhouse view to see the whole property at once
Virtual Floorplan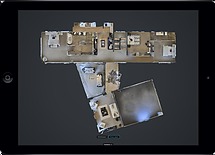 Matterport Floor Plan RealSCAN Property3D
View the layout of the property from above
360 Virtual Tour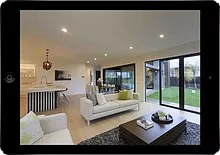 Matterport Virtual Tour RealsCAN Property3D
Tour the home like you are truly there
The RealSCAN technology has a multitude of potential applications and adds real value across a wide range of industries:
Real Estate:
Ideal for Real Estate marketing, our 3D tours give the property a sense of weight and awe unmatched by 2D photography.  By virtually touring the home or inspecting a 3D layout, potential buyers can relive experiences from a live house viewing and revisit parts of the property which made an impression. Imagine the time saved by agents, vendors and purchasers alike!
Arts and Entertainment:
A unique way to view a gallery or artistic space, our RealScan tours gives unparalleled insight into some extraordinary spaces.  Whether it's to archive an exhibition, provide a resource for teachers or simply catering to those who might otherwise miss out, RealSCAN delivers the perfect solution.
Retirement Villages:
The ideal way to view serviced apartments, independent living and care homes for those with a mobility impairment and their families, RealSCAN enables the viewer to explore large spaces in great detail from the comfort of home.
Construction:
RealSCAN, can be used to create immersive walk through tours of the building site mid construction. Owners can safely navigate their way through the new build without any health and safety concerns, builders can see where wiring and plumbing runs through the walls. Architects can see their drawings come to life and interior designers can start planning the space with ease.
Hospitality:
The ultimate way for accommodation providers to market both nationally and internationally, a RealSCAN 3D tour showcases the space beautifully and gives a potential customer the means to book with confidence.
Real Estate
Residential Home
Arts & Entertainment
Venue
Real Estate
Property Management
Retirement Villages
Independent Living
Arts & Entertainment
Museum
Platinum Homes
Group Home Builders
What they say…
"Really impressed with quality, turnaround and professionalism of all at Property 3D"
David Hick – Vendor, Auckland
"Marcia is a fantastic communicator who goes over and above to ensure a successful relationship with the client. Her attention to detail is strong and she is invested in ensuring the end product meets the needs of the client. Wonderful results!"
Wendy Burne / School Programmer @ Auckland Museum
"Photos are good, videos are great, but the 3D virtual tour is exceptional. Being able to manoeuvre through a home prior to viewing saves time for the buyer by giving a genuine feel for what a home looks like. I found that this was a massive help in our house hunt and believe that any seller should seriously consider adding this tool to their mix. An amazing technology and I wish the team at Property 3D all the best!"
Carlos Bagrie – Property Purchaser, Auckland
"This made it so much easier for buyers to appreciate after viewing the first time, as well as from overseas, resulting in multiple offers for our vendors"
Nathan Buxton – Ray White, Te Atatu
"I recently had the pleasure of having a property listing scanned and photographed by the RealScan camera process by Marcia Jessen from imaging company Property3D. The property was a unique building in many ways, it was a Temple which had been constructed in the 1920's and was in largely original condition. Although the exterior looked unkempt, the interior was interesting with many architectural features, stained glass windows, polished timber floors and a lovely stage framed with large pillars. Purchasers were always awed when inside the building but once they had left, the magnitude of the work & cost involved in restoring the building outweighed the sense of potential and their enthusiasm left them.
However, the RealScan link has given me a portal which I can forward through to interested parties which recreates the sense of being in the space and allows people to connect with the space emotionally again. This is so important in the selling process as buyers can show the property to their builders or architects without meeting them onsite (saving time and cost) and gives them a real sense of what is there and what could be achieved, all the while re connecting with what engaged them in the space in the first instance. Feedback from purchasers has ranged from "absolutely fantastic thing" to "bloody brilliant" to "where can I get this done"?
Needless to say we currently working through the contract details on a sale on this property and we look forward to working with Property3D again in the near future as this technology could work for many properties, particularly higher end property being sold in the international market place"
Ross Girven – Barfoot & Thompson, Mt Eden